The Website of Carlos Whitlock Porter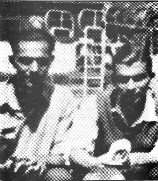 MADE IN RUSSIA - THE HOLOCO$T
Cover photo: healthy concentration camp inmates in front of swimming pool with sprinkler system, high diving board, and wearing wrist watches, photographed at Ebensee, Mauthausen, on May 6, 1945. Pictures appear in BILLER AUS DEM KRICH, Editions St. Paul, Luxembourg, photograph 257, no page number; on the same page. Photograph 258 shows overweight inmates posing with "living skeletons"; photograph 260 shows overweight, healthy, happy, smiling inmates on locomotive; this same photograph was also published in the Luxembourger Wort, May 6, 1985, p. 18; republished in the Luxembourger Wort on 21 April 1990, page number unknown. It is respectfully submitted that these photographs are incompatible with the myth of Nazi barbarity and cruelty.
For enlargement of above photograph, click here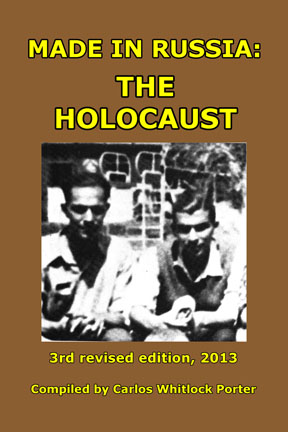 To read for free, click here
(first 1998 Internet version, not the finished book version shown above)

Updated 12 June 2020


junkie monkey
--



Also from Barnes Review
By Hervé Ryssen – Translated by C.W. Porter

(short books)
SATAN IN HOLLYWOOD
UNDERSTANDING THE JEWS, UNDERSTANDING ANTI-SEMITISM

(full length)
HISTORY OF ANTI-SEMITISM
PSYCHOANALYSIS OF JUDAISM
JEWISH MAFIA
ISRAEL'S BILLIONS
END TIMES WARFARE

(full length, finished, but not published yet)
JEWISH FANATICISM (coming soon, probably this month)
MIRROR OF JUDAISM
IS ANTI-SEMITISM JUST ANOTHER TABOO?