BOOK INDEX
completely revised new editions of the following:

Made in Russia - The Holocaust
(first page is blank, just scroll down)

Erratum:

Please note the misprint in top line, page 362 of Made in Russia: The Holocaust:
Perchlorformicacidmethyleseter = error for Perchlorformicacidmethylester

I stress this because "eseter" looks like a real word, but isn't. This might throw some people off.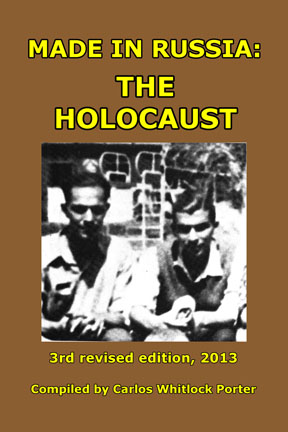 Not Guilty at Nuremberg - now available in the following languages:

English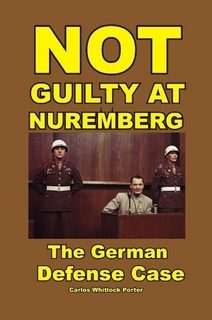 Errata:

Many of the extant copies of Not Guilty at Nuremberg contain the following error:

In the section on Rudolf Hoess,

"Document NO-036, p. 3, German text, answer to Question 25"
should be amended to read:
"Document NI-036, p. 3, German text, answer to Question 25".

German (nicht in der "Bumsenrepublik" herunterladen - streng verboten! Crimen atrocissimus! Nyet!)

Siehe auch: Nicht Schuldig im Sinne der Anklage (youtube)

French
Hungarian
Italian
Portuguese
Spanish
Rumanian
Russian
Bulgarian (NEW)
--
Selected Writings (in Russian)

Image of the Germans in Polish Literature and The Falsification of Polish History (by Else Löser)
War Crimes Trials and Other Essays by C.W. Porter
Germany v Porter
Satires
Letters
Requiem for Rhodesia
Crimes Against the Wehrmacht by Dr. Franz W. Seidler
French Gestapo Trials by Vincent Reynouard
Understanding the Jews, Understanding Anti-Semitism by Hervé Ryssen
The Jewish Mafia by Hervé Ryssen
History of Anti-Semitism by Hervé Ryssen

Search and ye shall find

Wouldst that mine enemy had written a book.